Creating / Submitting a New Support Ticket
Aug 05, 2019
3655
If you have not been able to find your answer in the CSSD 11 Support Center Knowledge Base, your next step is to create and submit a ticket. Here are the steps to get your ticket submitted...
In the top right corner of the page, you will see a link that says "TEACHERS / STAFF LOGIN", click that link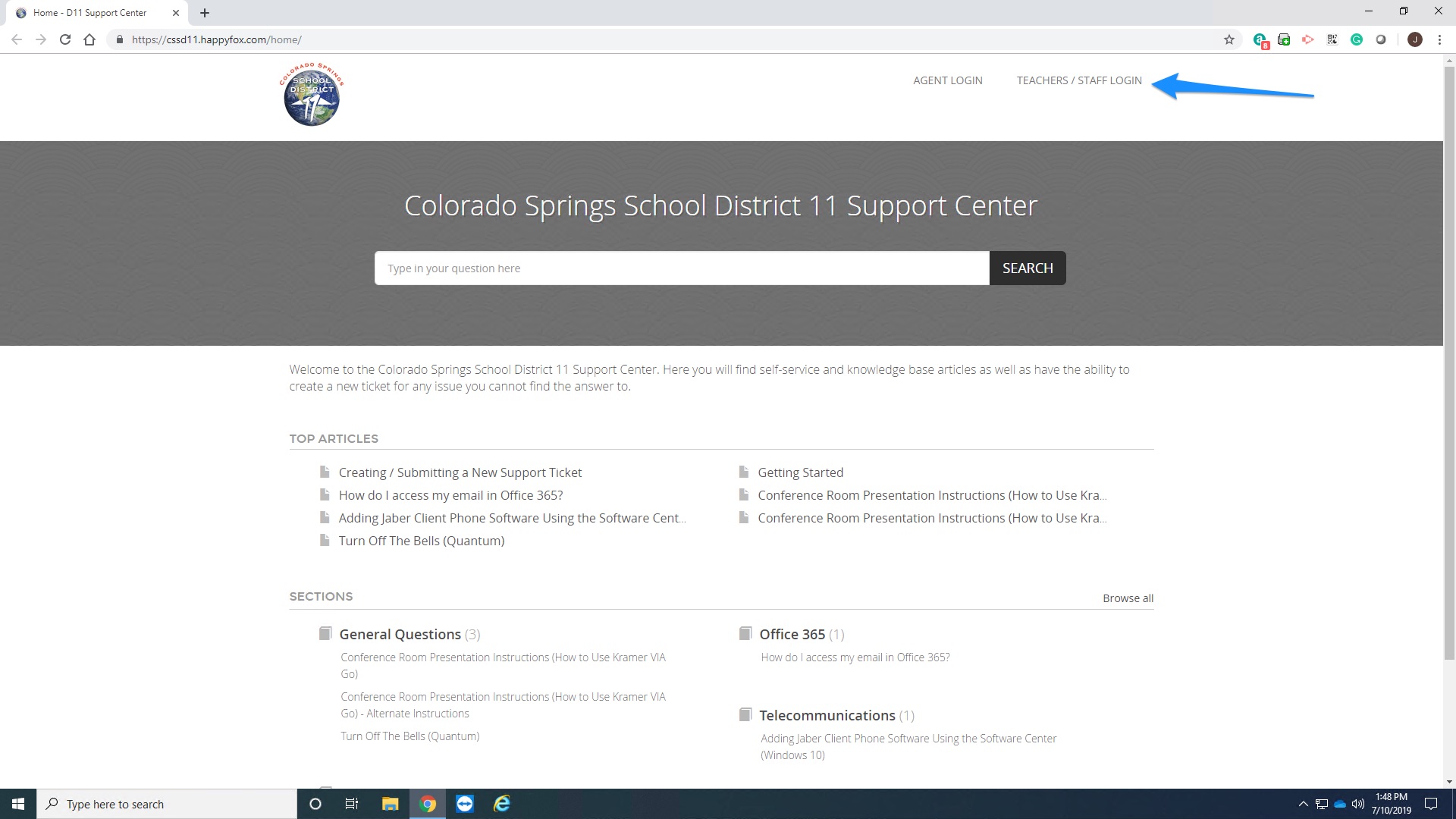 If you are logging in to the system for the first time, or have not asked it to remember you, you will be routed to a page that looks similar to this where you will be asked to enter you D11 email address. Please use you entire email, the short email address will not work here.

NOTE: If you have already logged into O365 on this computer you can jump to Step 5.
Once you have entered your email, click "Next" and you will be taken to a similar screen where you will need to enter your password.
Upon successful password entry, you will be asked if you want to stay signed in. This is your choice. If it is a shared computer or one that multiple people use, you likely will not want to stay signed in. If you are the only user of this machine you may want to. Again, the choice is yours.
You should now see a screen similar to where you started, at the Knowledge Base. However, you will notice a new link at the top right of the page, "Back to Tickets".
This link will take you to a personalized portal where you can see any ticket you have submitted, the status of those tickets, and create new tickets. You can also open these tickets to see what progress has been made and or responses to that ticket.
To create a new ticket you will need to click on the "New Ticket" tab located along the top of the page
Upon clicking on the New Ticket tab, you redirected to the ticket form. While this is a very simple form, we want you to fill in as much information as possible. The more information you give us the easier it is to fix your problem. Take your time and fill in all the fields, to the best of your ability. Again, Please mention as much detail as you can about your issue.

The more detailed the information is the better. Details like:

What you were doing when the issue occurred

What software you were using

What actions were you taking

How many times has it happened

Has anyone else experienced the issue

etc.
As you can see the message body of the ticket allows for a lot of formatting options. Please feel free to use bullets and numbering along with other formatting if you feel it will help explain your issue. Remember the more information you give to the LTE / DST, Field Tech, or other Agent the faster we can solve your problem.
After you have completely filled in the form and given us meticulous details, click "Create Ticket". There is no need for any personal information because you have already logged in and the system knows who you are. After that, we will take if from there.

If you need assistance with filling in this information please let your LTE / DST or Field Technician know and they can assist.

Once you have created and submitted a ticket for your issue, you should receive a confirmation email for that issue. Each ticket has its own unique email that you can use to respond back and forth to the Agents about your issue. From this point forward, for this issue, you can add more information and/or reply to requests from LTE / DST or Field Technicians through this email. Any information you send, via the email reply, will automatically be added into the ticket for the technicians to see and use to resolve your issue.